I've noticed a lot of questions about CO2. Trea08 started a thread a while back answering some general CO2 questions. It can be found
here
. In this thread, I will expand on what he started.
Why should I use CO2?
Simple. CO2 is cheap and, for the most part, easy to obtain. It is very easy to use, as long as safety is #1. It also makes for a portable cannon, which is a big priority for a lot of cannons.
How do I obtain CO2 merchandise?
Any paintball store (online or local) should have a good supply of CO2 merchandise, including tanks, regulators, etc. Also, a lot of big department stores, such as Wal - Mart, carry some merchandise as well and will even fill the tanks.
How much pressure does a CO2 tank hold?
CO2 liquefies depending on the temperature. For a more detailed description, check the following chart, called CO2 Dynamics: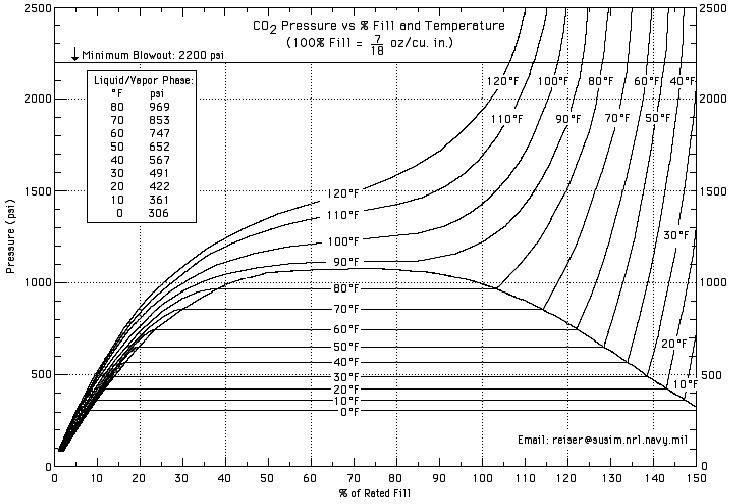 How do I hook up a CO2 system to my cannon?
If a plastic pipe is used for the chamber, or any pipe that is not rated for at least 1000psi, a regulator is needed.
This thread
covers most of this question in detail. Also needed is a
safety pop-off valve
, also known as a relief valve, just in case the regulator fails. These valves can be found at most hardware stores.
Note: A pressure gauge may also be desired to allow you to see just how much pressure is in the chamber, but most regulators have an input for a pressure gauge. These can be found at most hardware stores. If a more sleek gauge is wanted, a good paintball supplier will have these. Again, check local or online paintball stores to find one.
How does a regulator work?
A regulator regulates the air that goes into the chamber. It can be set to a certain psi and will only allow that amount of pressure into the chamber. It is imperative, however, that a regulator suited for CO2 be used, as the CO2 may damage regulators not suited for it. A regulator should state whether is is compatible with CO2. If it does not, don't use it. I have found that
Palmer's Pursuit
has one of the best CO2 regulators on the market.
How much psi will a 12g put into my chamber of "X" size?
This question is answered in the wiki and can be found
here
. In short, the formula is as follows:
4200 / chamber volume (ci) = chamber pressure generated (psi)
It provides a rough estimate one can expect from a 12g.
How many shots can I get from a "X" sized tank with a "X" sized chamber?
Using the Ideal Gas Law, we will use the variation of n = PV / RT
n = mole
P = pressure (atm) -> multiply by .068 to obtain psi
V = volume (L) -> multiply by .016 to obtain cubic inch
R = math constant (.082)
T = temperature (K) -> K = (°F + 459.67) ÷ 1.8
Multiply this answer by 44. Now multiply that answer by .035. This answer will be the approximate amount of CO2 needed (in ounces) to fill your given chamber to the given pressure.
Here is an example:
Volume of chamber - 50ci
desired pressure - 100psi
temp - 75deg F
n = PV / RT
n = 100(.068) * 50(.016) / .082([75+459.67] / 1.8 )
n = 6.8 * .8 / .082 * 297.038
n = 5.44 / 24.357
n = .223
n(44) = g
(.223)(44) = 9.827g
g(.035) = oz
9.827(.035) = .343oz
The chamber will need approximately .343oz of CO2 to fill it to about 100psi.
Now, divide the amount of CO2 in the tank with the final answer to get a
rough estimate
of how many shots a given tank will provide a given launcher at a given pressure and given temperature.
This should clear up a lot of questions relating to CO2 and pneumatic cannons. If not, feel free to add or ask any questions.