Decided to make a paintball shotgun cartridge thingy today, for a new cannon i'm building.
The new cannon is for mini nerfs and will have a 2" dia barrel.
It will be breech loaded in a similar fashion to the nerf gun video that was lurking the forums not that long ago.
The barrel slides in a tee, bolt action style and it will lock into a 2" coupler.
My shotgun cartridge has a base diameter the same O.D as 2" pipe (or the coupler I.D) and the pipes themselves have a similar I.D to 2" pipe.
To load you simply fill with paintballs, jam in barrel, then lock the barrel with cartridge into the coupler and fire.
It has a maximum capacity of 21 paintballs, or 7 per barrel. You can fill it to the top, or maybe only put 3 in each barrel, it shouldn't matter.
This is more or less a prototype since I don't have any way to test it as of yet, so should be interesting how it performs.
Specs:
The round base is made from homemade sheet PVC and marine filler.
The three barrels are secured by a metal bracket I made and the PVC sheet at the bottom. Oh and more marine filler
capacity of 21 rounds. 7 per barrel.
It's not that tight of a fit for the paintballs, but they don't come out when tipped upside down, but come out easy if you push them with your finger.
Now for the pictures:
Comparison to a pen.
Top - Empty
Bottom - Empty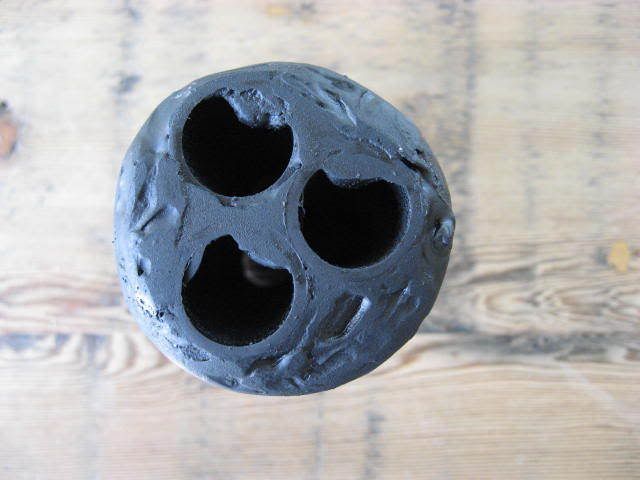 Top - Full
Bottom - Full
Not exactly pretty, I know
Oh and I got the idea from those paintball nades, the ones like <A HREF="http://rap4.com/paintball/os/m203-thunder-grenade-package-p-2714.html">this.</a>