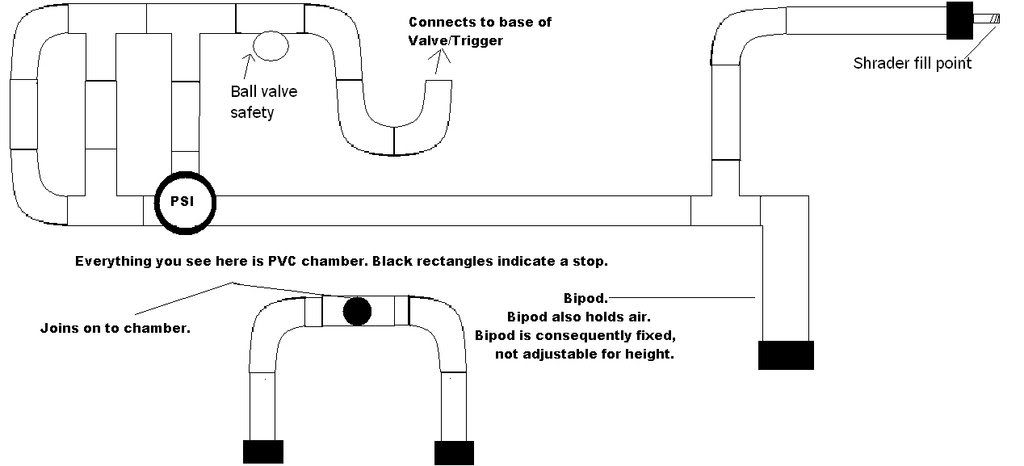 Any feedback? I would like to know if I'm going to kill myself before I build it. I will get pvc rated for 160psi for the chamber.
In regards to my previous topic, here is what I pmed every member who posted in my topic:
Just to clarify mate: My last design was operated by a hand pump, so I could only reach (only be stuffed reaching) about 40psi. That gave me about 2 shots at a dodgey and inconsistent FPS. I don't have a compressor, and can only afford a 12v one, so it would be plugged into the car lighter, or for that matter any 12v outlet. I went to Dick Smiths powerhouse (an electrical goods store) and they said a 24v-12v adapter would cost $30, which I just don't have. I'd only be able to pull about 50fps, so shooting out of a car window would be impracticable if the car was moving. My driveway extends to my backyard, which enables me to shoot from the passenger seat into my backyard. From the drivers seat, I would hit fence. The design is completely dependent on a 12v outlet, and I don't believe there would be any accuracy at speed in a car. I'm terribly sorry for causing you, and other members of this site any undue stress by leaving you with this impression. When I said "Any higher and it explodes" I was referring to the maximum psi a 2l coke bottle can hold, which is about 120 psi. I know this because I used to make water bottle rockets. "Pretty Hairy"-I was surprised and scared when my hopper blew off, this occurred because I didn't have the knowledge (at the time) to seal it off during firing with a bolt.
Any further questions?
Terribly sorry, and thanks for your feedback.
Moses.
Also this:
Thank you very much, I appreciate your understanding. I've since discovered that I have a 600amp car jump-starter, which is man portable and has a 12v outlet, so the car lighter plug is out of the equation.
Because this is not designed to be automatic, I don't need a consistent air supply. It is meant for single shot accuracy, so a compressor doesn't need to be semi-permanently hooked up.
EDIT: I forgot to mention that the pipe that the schrader fill valve is connected to will be connected to the barrel. Also, this was my first prototype, a semi-auto marble cannon: