How cool would it be to have a semi-automatic, clip fed, caulk tube (or any other 2" barrel ammo) shooter?
Design summary:
-Ammo - 2" Dia 9" long Caulk tubes (any 2" ammo can be used)
-Air "Chamber" Volume per shot - 3-400 cu in (Can be more, easily, but ROF will suffer due to recharge rate)
-ROF - for 400 cu in "chamber" volume, 6 shots per minute, MAYBE 8, but recharge rate must be determined.
-Size - HUGE, think Anti Aircraft, like 30mm
-This design is not focused on high rate of fire like that of a machine gun, its rather based on a large bore, heavy projectile, magazine fed, semi-auto.
I have a design I'm working on, sofar its 100% OTC (no lathing required), and its on paper. I'm thinking of drawing it up solidworks if theres any interest. I'm kinda split decision on it. NO ONES made anything like it in spud gunning that i've ever seen. It uses an inline spool valve, Open bolt design. I'm just thinking of shooting caulk tubes cause their cool, and stuff, but anything 2" can be used. It will require orings... about 7 or 8 of them. They will all be external o-rings (::EDIT:: OK, one will be internal on a 2"X1.25" Reducer Bushing right at the barrel. I can explain how to make a jig with a dremel to make the internal o-ring groove if theres interest in the overall design) . It will require lube, prolly a good portion of it to cope with the irregularities of the PVC walls.
I've been interested in spool valves ever since I helped someone at Dye paintball work on a design for a prototype gun, and stumbled across the balanced beauty, and simplicity of spool valves. When I started at my last college, in the first year I designed this valve for our Engineering design competition. When everyone else took the easy route of just using 3 1/4" solenoids to drain 3 resevoirs of water at once, I took it upon myself to prove my knowledge of more advanced technology. So the "3port" valve was designed. I was told by the EE Professor I would not be able to get it to work, well he shut his mouth pretty quickly after he saw our working demo hehehe. The valve housing is 1.5" PVC (spud gunner represent YO) btw, the inside spool was 1.5" UHMW that I lathed down to the exact dimensions shown below. It was my first time physically making a spool valve I designed, and it worked!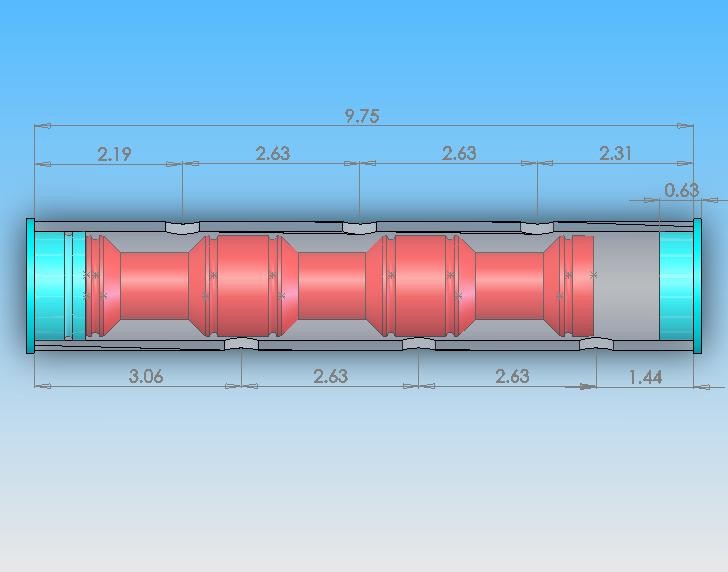 I'm really trying to transfer some of my paintball pnuematic design knowledge to spudguns to help advance the hobby for all of its participants. This design will require some time on my part to draft, and Will require even more troubleshooting it till its "recipe" ready. I'm just wondering how much of an interest there is for such a thing. It'll will be big in size, think anti aircraft. It's rate of fire will likely be design limited (not physically limited) to 6 shots per minute at the scale I am imagining (2" barrel, 3-400 cu in tank, shooting caulk tubes) . The valve body will be incased in 4" pvc, it can be any length really, the longer, the more volume in the spool valve, and vice versa.
I'm asking because theres already quite a few well thought out designs out there. Is there a demand for another one? One that could shoot a clip of CAULK TUBES?? You decide.
One last word - All the guns I've made up to this design would seem very low-tech (and I personally think they are) in comparison to this. It may be too complicated of a design for staying 100% OTC and sticking with PVC, but the desire is there on my part.[/b]