I've been trying to think of a valve to use for an RPG or bazooka-style weapon for scenario paintball. A regular sprinkler valve would work fine of course, but I really wanted to make a piston instead; I also wanted something that would fit inside a single tube, which would probably break open on a hinge for breech loading. So I came up with this.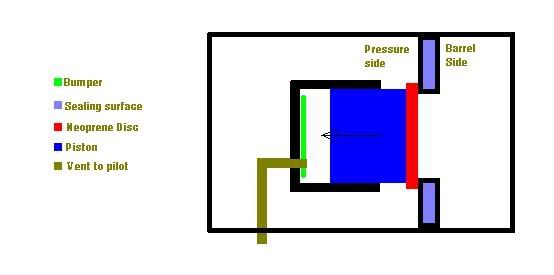 Basically, it's just a small piston within the larger bore of the launcher's main body, with a flat sealing face between the barrel and chamber. Since the piston is so much smaller in relation to the bore, the pilot volume should be smaller then normal, which is good of course. I don't think the flow would be as good as a normal barrel- or chamber-sealing piston, for obvious reasons, but the pilot actuation should be faster. The size of the piston would be half of that of the bore; in my example, a 1 inch piston in a 2-inch nerf launcher.
The only PITA would be assembling everything in the right order to get it all together, and the pilot/fill having to go thru the chamber might be a pain, but it could be done. Also, you'd need to have the sealing face be removable so the piston could come out the front in order to be serviced.
I don't doubt that someone has already made/designed something similar, but I came up with this myself a couple days ago, so let me know if it's been done.