maverik94 wrote:well, I want a balance of portibility and power, however, portibility is more important. I want something that will, lets say, make small furry rodents regret eating the veggies inn the garden, and It would be nice if this gun could do some damge to a steel can, like the gun on the video you showed me.
We shouldn't be discussing the use of homemade spudguns for shooting living things. However, for academic purposes, this table is from the
Beeman Airgun Field Us

e guide
: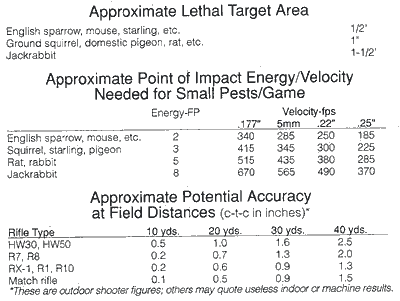 By the way, could you post the link to the topic about the gun?
That never was an actual launcher, it was simply a blowgun with the nozzle removed and barrel fitted instead, which I made as an
experiment to show that a simple blowgun was a good enough valve
for some small calibre applications.