Okay, I know a lot of you have experience with blowforward breeches, but at the same time, many people here don't.
I came up with a simple design that i wanted to share. The coolest part is that the whole breech (minus o-rings and spring) can be made with standard pvc fittings. No funky sizes, no epoxy nessicary
(yes it is still optional
)
So we all know that 1.25 inch sdr 21 pvc pipe will fit a golfball. What most people don't realise however is that it also fits a 1 inch coupling.
This is similar to how 2 inch sch 40 pvc pipe will fit a 1.25 inch coupling or cap (for use as a piston).
So by following this trend, we can come up with a blowforward breech using only fittings and pipe.
The bolt is made of 1 inch sch 40 pvc pipe. It has a coupling and plug (or cap if you wish to make it simpler) at one end, and a coupling on the other. (no plug tis time) It has a few holes drilled in it a little ways behind the plugged coupler, and then the whole thing is placed inside a piston.
The piston in this case is a 1.25 inch coupling with 1.25 X 1 inch bushings. The bushings are sanded out to slide over the bolt, and then glued in place.
This bolt/piston assembly is placed inside a housing made up of 2 inch sch 40 pvc pipe. It has a coupler and 2 X 1.5 inch bushing on both ends.
Overall it should look like this.......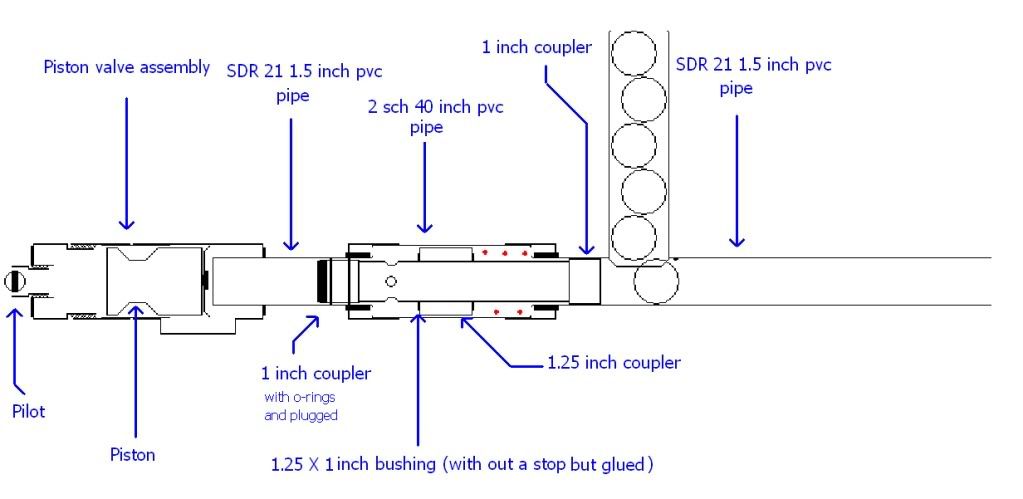 (warning! this is not to scale! Just to show everything in its place! Oh and ignore the valve, its a dud...)
O-rings can be added and of course the spring.
I just hope someone can make use of this someday!!
Cheers!