Hi all,
It's been a long time since I've posted anything; I've been extremely busy, but I haven't stopped spudding.
Anyways, here's my latest build, I still have some things to revise, but I've decided to bite the bullet and build a stirrup pump. I got sick of rebuilding bike pumps and this is the result.
It's made from 3/4" copper. The piston is made from a 3/4" machine screw anchor and JB Weld to seal all the gaps in the piston head. it uses a floating o-ring. the pump rod is steel all thread.
It has a 3/4" check valve, which I need to modify to eliminate dead space at the bottom of the piston stroke, since it's fighting me a bit past the 140 PSI mark. I've gotten it past 200 PSI so far (the gauge is bad, I need to replace it and it only goes to 200, but It was what I had in the parts bin).
The airline is mostly paintball stuff, rated at 2500 PSI. The schrader chuck is rated to 300 PSI or so, but I can swap with a quick disconnect fitting or plumb it in directly.
For now, I am using a shift knob for the handle, will be replacing it with a heavy steel pipe nipple for a t-handle most likely. the ball valve is for testing purposes and will be removed when the bugs are all worked out. I've used it with the Kopperbess, and it works great. I may integrate it into my next pneumatic, or make a similar pump to be integrated into it , since this pump is a heavy beast. Needless to say, the next project will have a QEV (or possibly a homebuilt piston).
I used a close coupling brass nipple as a sleeve for the pump rod, it was cut down after being threaded into the reducer. I didn't tape the threads at the top of the pump body to make servicing easy, plus, you only need a good seal below the piston head anyways.
The pump is lubed with Castrol synthetic automatic transmission fluid. The combo of lube, and the large check valve make it rasp and growl when you pump it, my wife says it sounds like a beast in heat, so for now, I'm calling this pump "The Beast".
I'll take pics of internals when I disassemble it to mod the check valve. Let me know what you think.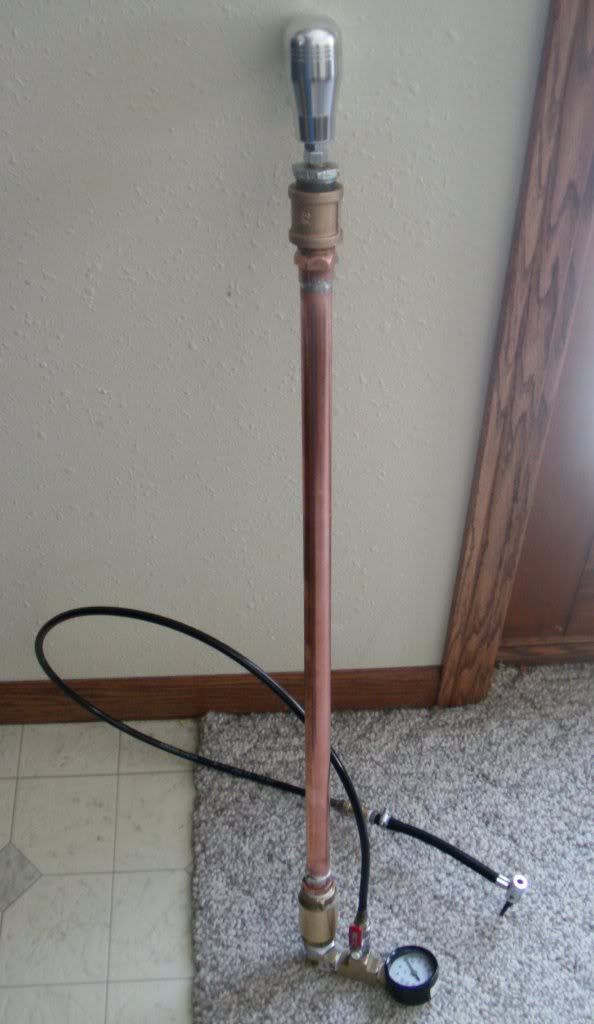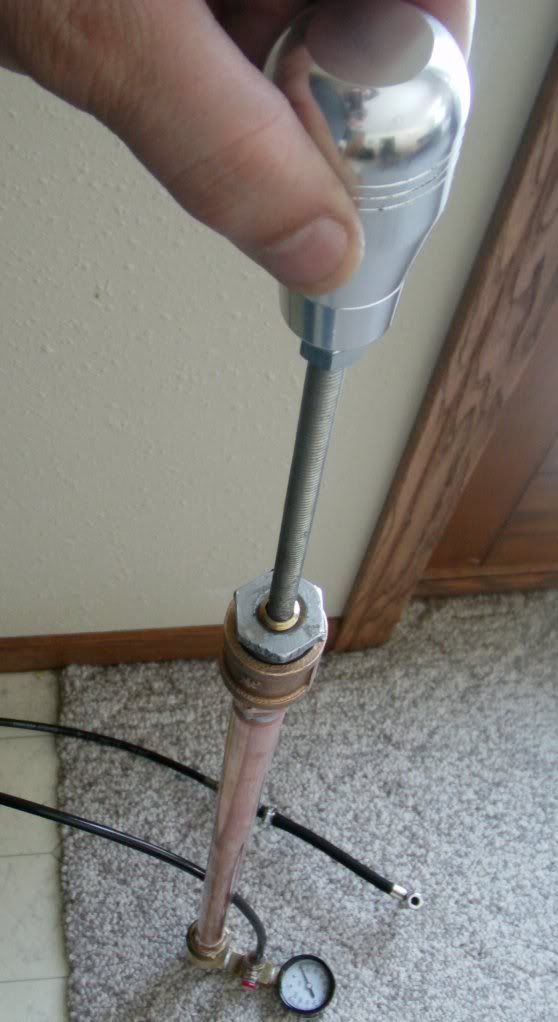 BTW, I've taken a lot of your past comments to heart, and I'm trying to step up my build quality on my latest projects. Stay tuned!