I'm working on a QDV valve that is housed in a 1 1/4" tee, with 1" ports for the barrel and chamber. Eventually this will be in my friends birthday present : a 2" NERF vortex football launcher
The hardest part so far has been modifying the tee to allow the 1 1/4" pipe to go through. I also had to modify the 1" female NPT adapters because the sockets on the tee were a bit shallow (even though it is marked NSF-PW)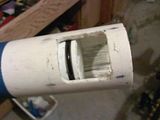 Here are some cellphone pictures so you can see some of the work I've done. I cut the port to be a little larger than 1" square, since I'm using 1" pipe (inner area is ~0.85 sq. inches). The piston is made from 3/4" fittings and 1 3/8" OD o-rings.
The main problem I'm having is the fact that the o-rings for the piston are getting stuck on the port I cut into the side of the pipe that will be inserted into the tee. No matter how much I beveled the inside edge, the o-rings get caught between the side wall and the piston.
I need to make a new pipe, so I'm wondering: should I try and go with beveled edges, or should I leave a strip of PVC in the center to support the o-ring? Maybe a different port size?