Hello all... I am new to this site though I have dabbled a bit in spud guns in my youth. My obsession is WW2 reenacting, British Army, and since the German groups we go up against often have armoured cars and other vehicles we needed some anti-tank defense. I batted around the idea of building a replica PIAT but since this isn't paintball or airsoft it had to be very realistic looking. A friend of mine was selling his war-dated PIAT and as I got to looking at it it dawned on me that with the guts removed there is plenty of room for pneumatics and the 'spigot' to be installed without doing any permanent cutting, drilling or tapping. So I dropped a sizeable chunk of money for it and am now drawing up the plans. Here is the actual beast...
There are surprisingly few good illustrations of the schematics online but this one gives you an idea of what I'm working with.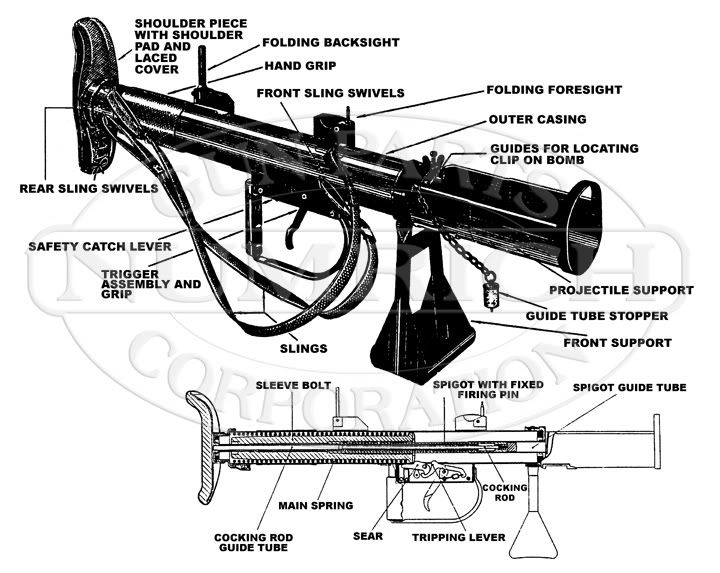 Once you unscrew the buttplate/ cocking mechanism and remove the guide rod, main spring and spigot (and possibly the spigot guide tube) the body is basically just a steel tube. Unscrew two bolts and the trigger group slides out the bottom. The base for the trigger group is just bent metal so it will be easy to build a new platform for a trigger pack.
Here is another PIAT pic with a PIAT round. My plan for a projectile is a small Nerf-type football, drilled in the rear with a PVC or similar tube epoxied in place and foam fins. It only needs to shoot approx 15-20 yards although more range is always a plus. I am discussing plans with a friend who does resin casting about making all-foam rockets as well.
I have experience working with pressure up to 850 psi due to 25 years of tinkering/ repairing with paintball guns. My plan is to use regulated CO2 powering a QEV/ blowgun trigger semi design via braided stainless steel airlines, feeding into a steel tube. This tube will be replacing the spigot. A Nerf bomb will be loaded in the tray and slid down the tube. When the trigger is pulled the pressure burst will propel the bomb forward using the spigot for its initial guidance. There should be plenty of room inside the PIAT body for the pneumatics and a 12oz CO2 tank. I work in the paintball industry, thus CO2 tanks are cheap for me
I don't mind carrying quite a few CO2 tanks in my pack and carrier since lugging around the extra weight is actually proper for a good reenactment. The trickiest part will be designing a trigger group that doesn't look totally farby (unrealistic).
Any thoughts or suggestions? The one major restriction is that there will be no cutting, drilling or tapping of the PIAT itself, as I need to be able to return it to its intact condition if necessary. Thanks to all advice in advance!
John