POLAND_SPUD wrote:Interesting findings. Now it would be a good idea to try higher pressures (though your findings suggest that you might have to find a way to further limit chamber size)
So the plug I'm using looks like this:
And here's a pic of it in the QEV: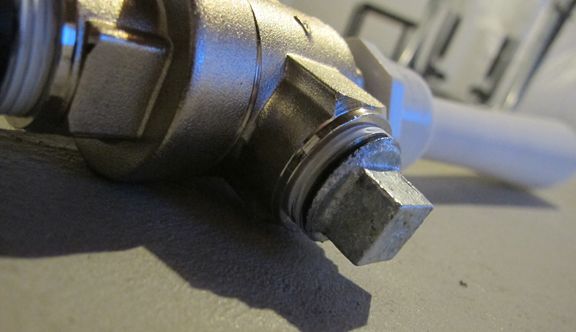 When fully tightened, the plug doesn't add any capacity to the QEV because the squared section is solid metal. However, the threaded area of the plug is hollow, which means I could reduce the capacity a little by filling up that hollow space with epoxy. I'm not sure how much of a difference it would make (or what the PSI limit is for the 0-link chamber as it is now) but seeing the difference between the 0-link and 1-link chamber, I expect it'd be noticeable if the right PSI can be achieved.
But here's the dilemma. The weakest part of this rig is the QEV which is rated to 150 PSI. The next weakest component is the pump, which caps out at 160 PSI. I could probably get the cannon up to 160 PSI as it stands now, but I wouldn't want to do that too many times and cause damage to the valves and pump...maybe just enough to see if the 0-link chamber reliably produces vortexes at the pressure. But in the end, if I am looking to increase PSI much beyond 150, I'm going to have to change multiple things in the design. I'm having trouble finding a 3/4 QEV rated for much higher than the 150 PSI mark, plus I'd need to find a new way to compress the air to that pressure anyway, and both of those things equal $$$.
Don't get me wrong, random projects like this are a hobby of mine and so I am fine spending some of my personal cash to get the results I want (as I'm able, of course). But if I'm giving myself the go-ahead to do that, I want to know what my options are. Is there a way to bypass needing a QEV but still get fast/high volume air flow? How about bypassing the slide valve and still retain the semi-auto functionality? This is why I kept going back to the idea of modding a cheap paintball marker...it appears to have all of the working part's I would need, but I wouldn't want to buy a marker only to find that something about it's design is not going to work for my needs.