Hello all,
here is a pic of the build, up to the point that I'm at...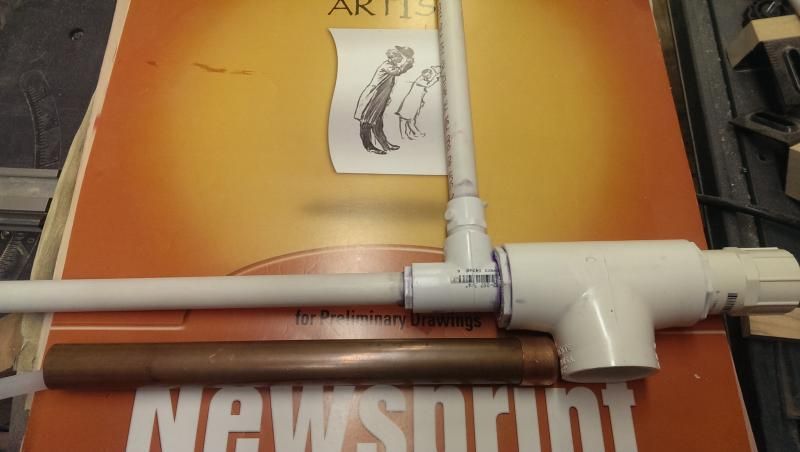 so now I need to know what you guys think would be optimal chamber to barrel volume ratio.
Here are the particulars...
1) It is shooting mini marshmallows through 1/2" pvc, so there is a bit of a loose fit, just a tad over .6" diameter on the barrel and a reported .5" projectile, that is likely to tumble, and seal off and on throughout its journey down the barrel.
2) there will be a gravity fed tube magazine, just after the piston valve, where several inches of shmallows will be waiting to fly onward, increasing the barrel volume that has to be pressurized during the launch, theoretically, more so as the magazine empties (as there will be less marshmallows taking up space). The top of the magazine will obviously be sealed.
3) The cannon will be using a 1.5"... "T", containing a piece of 1" pvc with a 1" barrel sealing piston valve inside of it, and on the bottom/chamber side will be using 1.5" pvc with end cap glued on for a chamber. If I were to make the chamber volume variable(with a threaded connector or union) this question would be pointless, but i want efficiency without giving up performance, and i want a simple chamber (pipe and end cap) for a comfortable grip.
4) there will be a 3/8" gap between the piston tube and barrel end, not sure if that matters, but there ya go.
5) the barrel volume will be 6.896 cubic inches (not including the magazine).
6) There is an on-board floating o-ring pump (the copper tube, with a pumping volume of about 8.25"cubed ) that will be used to pressurize the chamber, so I would rather not have the chamber larger than absolutely need be... the entire reason for the post.
7) the goal is a quick 3 or 4 pumps to get to 30 or 40 psi, and BANG! I haven't talked about the trigger/pilot system, but I will figure that out later.
So, what do you guys think???
I was originally thinking 1:1, but taking into consideration the loose fit of the projectile and the air cushion of a magazine I might be leaning more towards 1.5 chamber to 1 barrel?...but that might make for more pumps.
I want to be able to hand this weapon over to children without it being annoyingly difficult to use.
Thanx for any insight,
Chris