While after the poor performance of my Tee Piston (see
http://www.spudfiles.com/forums/piston-performance-t8695.html
) I have decided to rebuild it putting male/female adapter that allows piston access in front of the piston instead of behind it. As dead space was determined to be the factor lowering my performance, i am working to decrease that. The valve resides within a 2" tee, using 2" porting in 1" porting out and 1" porting fill/fire.
Option 1:
Use no 2" pipe to fit piston in, piston resides inside reducer bushing. This would create tiny dead space but also tiny piston movement. However, in my last topic Jacksmirkingrevenge stated that my piston would only have to move 0.3 inches for full flow. This design leaves no room for a bumper.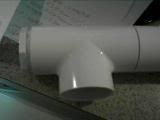 Piston in fully open position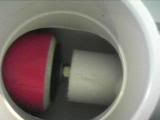 Piston resides inside this bushing
Option 2:
Uses coupler containing 2" pipe making a cylinder for the piston to reside in. Allows 1"+ of piston movement and room for bumper. However, dead space is substantially larger than Option 1.
Option 3 (just thought of)
I guess i could move the face (pipe end) the the piston seals against farther back (using option 2) in the piston's cylinder. this would move the piston's overall position back and thus decrease it's dead space. However, when the air out hole is in the middle of the tee i would think it would have better flow than when it is farther back inside 2" pipe. But the loss of dead space might overweigh this possible restriction of airflow.
I am worried about the first version, the pipe that the pistons sits againt would have to be perfectly adjusted (and that section is now removable to allow piston acces) and i think it would Jam up if it came out of its bushing. Second option however still has substantial dead space. The only way to decrease that space and still use some 2" pipe to give the piston a cylinder to move in would be to use and endcap with holes drilled into it for fill/fire. I really do not like the idea of drilling my own holes, they would have to be of much smaller diameter and i feel as if they would compromise integrety of the endcap.