Based on my corrected knowledge of pressure and force, I designed an easy to build regulator. Most parts can be bought at a regular Home Depot or Lowe's.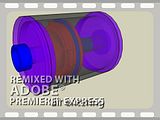 It works based on the fact that force increases with surface area. The front side has a large dimple drilled onto it, increasing surface area like a golf ball. The side where unregulated air comes in is flat. When the pressure in the firing chamber reaches a certain point the piston is pushed back until it seals the threaded nipple. The greater force on the air chamber side prevents the piston from releasing air until the pressure in the air chamber drops.
The use of a threaded nipple allows me to quickly adjust the pressure to which th eair will be regulated by simply twisting it.