I'm going to build a rifling machine and would like some feed back before I go ahead.
Rifling Design:
(PICTURES BELOW)
First off I think the square lands of typical rifles not to be translative of potato launching. The face created by the depth of the land seems to more directly exert shear forces.
Sketched some designs up. The left section has arc lands with equally sized bits of undisturbed pipe in between. The right section is all cut (broached), with no original interior surfaces left, with a design similar to the ridge line of knuckles.
For example a ganged broach for standard rifling.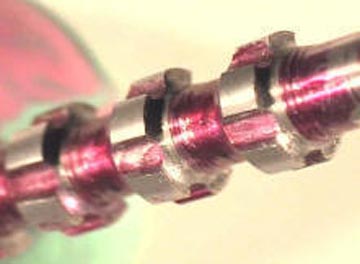 Testing:
I'm figuring a range of 360*:30-60" ratio to test. I'm thinking to chronograph and use a spread test (cardboard target) for optimization.
Cutter Design:
The cutter would be of a broach design, incrementally increasing the cutter size to gradually remove the material. For the testing one broach section will be drawn thru at a time to avoid re-alignment of a ganged broach. As different rates of rifling would required individual adjustment of the ganged unit. Therefore the broach would only be ganged once the desired ratio is found.
The cutter design would obviously replicate the contours in the rifling. Additionally on the face of the cutter, 1/16" inward from the edges a 1/8" ball mill would be used to produce a positive rake angle cutter along the edges.
Positive rake chipping

Machine Design:
Linear movement would occur on two 6' sections of angle iron using skate bearings to support a carriage. The pipe will be fixed, having a acme threaded rod driven carriage, and slowly rotating cutting head.
Similar to the article I will use acme threaded rod for tapping, however milling slots lengthwise instead. Then drilling a pilot hole the size of the root diameter.
During testing I'll use steppers, but for a final design the two movements will be geared together and operated by rotating a handwheel connected to the acme threaded rod. Using a hypocycloid reduction gear for the rotation of the cutter.
90:1 Hypocycloid (
link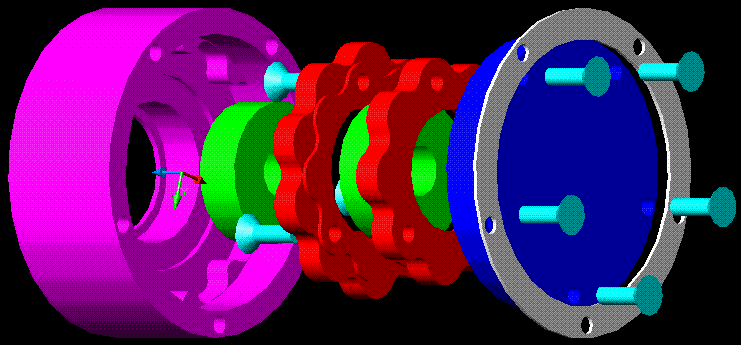 ^Video - Youtube