Hey guys, I am working on a firing control for a launcher I am working on.
I basically got the device to have 1 switch that is an
on/off/on switch
that acts as a
safety/fire mode
. It would be considered on safety when it is in the off position (the middle) and when it is to the right, it would be firing mode. When it is on the left however I want it to be on "charge" mode.
There would be another "plug in" in the the middle where I can plugin a charger and charge the battery while the battery is inside the gun. That plug would also double as another switch when I have the safety switch turned to firing mode. The plugin would allow you to plugin another switch like my remote firing keychain switch. Last but not least, would be a firing button. This button would be the button you would press to fire the gun without any plugin switch.
So in normal firing mode, you would switch the safety to firing mode, make sure you have a little plugin that just completes the circuit, and you would just push the firing button.
In Charging mode, you would switch the safety to charging mode, make sure you have your charger plugged into the plugin, and it will start charging.
In "remote firing mode" make sure you have the switch to the firing mode, and plugin your remote firing trigger such as a remote start keychain or other seperate circuit. but here is the kicker, I still have my firing button the the launcher and unless I make that a on off on switch I dont see how i could fire this thing remotely since I would have to also push the firing button. I was thinking about making the button removeable just like the "plugin part" so then I could just put a thing to complete the circuit as well, but then that makes setup a little bit longer. and as far as a on/off/on switch for firing the gun, I would rather have a push button then a switch.
Here is the circuit I drew up real quick, please let me know what you think.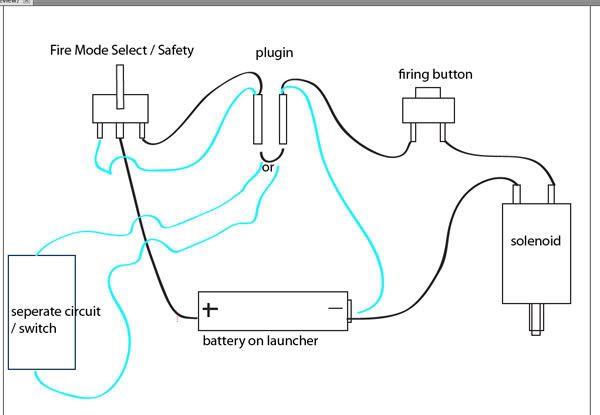 The separate circuit would be optional and not always pluged in, it would only be plugied in when i flip the fire mode to the left, and when that little wire to complete the circuit inside the pluin is taken out. thus that is why the word or is there, not to act as an or gate. There is no or gate. The blue wires going from the plugin to the battery andthe plugin to the fire mode switch however would always be there.
let me know if you see any problems with this circuit.