For a couple weeks I have been trying to come up with the most effective piston and this is what I came up with. The only diffrence is that on a normal piston that air is realised behind the piston and since the pressure difference it slides over in attempt to equal the pressure. But the problem I see with that design is that it is still limited to the speed of what ever you have exhausting it (ex: sprikler valve, ball valve). But I think that my design will work better because the air oppisite of the chamber is not ran through a smaller opening. Enough talk know here is a colored key for the components in the pictures.
Color
Green=
3" Fittings (Elbow, Coupling, Cap, and Tee)
Red=
3" Sch 40 Pipe
Pink=
Electrical Solenoid
Brown=
Piston Body
Gray=
Rubber Face fastened to face of Piston body
Yellow=
3"x1.5" Bushing
White=
1.5" Sch 40 Pipe
Purple=
Bolts to keep the piston from coming out
Light Blue=
Low Pressure
Blue=
Higher Pressure
Here is a parts list.
Step One: No pressure in chamber/ Solenoid Off
Step Two: Chamber is pressurizing.../ Solenoid Off
Step Three: Chamber filled to desired pressure/ Soleniod On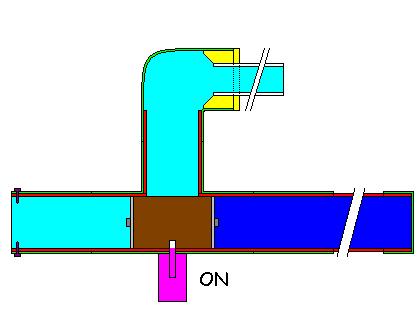 Step Four: Chamber pressure pushing piston back/ Solenoid On
Step Five: Pressure pushes piston over and air realeased into barrel/ Projectile pushed out of barrel/ Solenoid On
Step Six: All air is realeased through barrel/ Solenoid On
Process is repeated by pushing piston back into place then start at Step One.
By posting I want you to tell me if you see any flaws or improvments needed in the design. Please also tell me how you think the overall design will work. If there is anything else you would like to say feel free to say it.